Shopping Cart
Your Cart is Empty
There was an error with PayPal
Click here to try again
Thank you for your business!
You should be receiving an order confirmation from Paypal shortly.
Exit Shopping Cart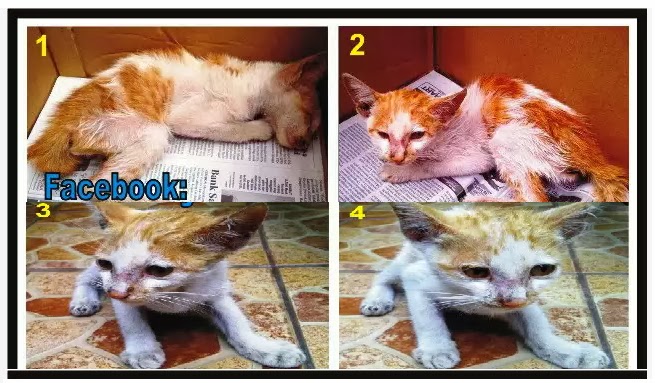 Testimonial of Roslinda from Jakarta:
This morning (23 November 2012), I saw a kitten in a box, which was dying, hardly breathing and already surrounded by ants.
My neighbor said that he found the kitten in front of his house. As it was already dying, he just put it in a box. He asked the gardener to bury the kitten if it died later on.
As an animal lover, I wanted to help the poor kitten. We drove to two nearby vets, but they were not in the clinics. So my husband suggested that we feed the kitten Super Lutein.
When we reached home, my husband immediately gave the kitten one capsule of Super Lutein. Its body was already stiff and it took a while for the capsule to be swallowed by the kitten, because of the difficulty in opening its mouth.
After that, my husband tried removing ants from the kitten's body and realised that it seemed to show signs of recovery. It opened its eyes and moved its head. So, my husband left it in the box and went to take a shower.
When he came out of the shower, my husband re-examined the state of the kitten. Surprisingly, the kitten was already able to stand. One hour later, it was trying to wander away. I had to lock it up because I wanted to take care of the kitten for a few more day, and only free it when it had fully recovered.
My neighbours got to know about the situation, and they all came to see the "resurrected kitten".
Super Lutein is really amazing!
Disclaimer
These testimonials are not intended to diagnose, treat, cure or prevent any disease and its related medical conditions. They are the sole opinions, findings or experiences of individuals taking Naturally Plus' products. It does not guarantee results. Please seek your own medical advice if you have any concerns.
Categories: ANIMALS/ PETS Testimonials
/