Shopping Cart
Your Cart is Empty
There was an error with PayPal
Click here to try again
Thank you for your business!
You should be receiving an order confirmation from Paypal shortly.
Exit Shopping Cart
Youtube Link: https://www.youtube.com/watch?v=5HbN4sSmRuM
Your skin is composed of three layers. The outer layer or epidermis is made up of cells called keratinocytes. They begin to form at the bottom of the epidermis. They divide, pushing already form cells upwards. By the time the cells reach the skin surface, they are no longer alive. These are the dead skin cells we constantly shed. This process usually takes about 30 days. In psoriasis it takes only three to four, and instead of falling off the dead cells pile-up.
Psoriasis results from a problem with a type of white blood cell in the immune system called a T-cell. T cells normally detect and fight off foreign substances. In psoriasis t-cells attack healthy skin cells and trigger an immune response. Blood vessels in the skin get larger, other white blood cells enter the epidermis. The T cells release messenger chemicals called cytokines which tell the keratinocytes to reproduce and mature much faster than normal. New skin cells form and move to the surface too quickly. They build up as the thick scaly patches on the skin surface that characterize psoriasis.
Psoriasis Testimonials
Youtube Link: https://www.youtube.com/watch?v=GzaHXwcBojE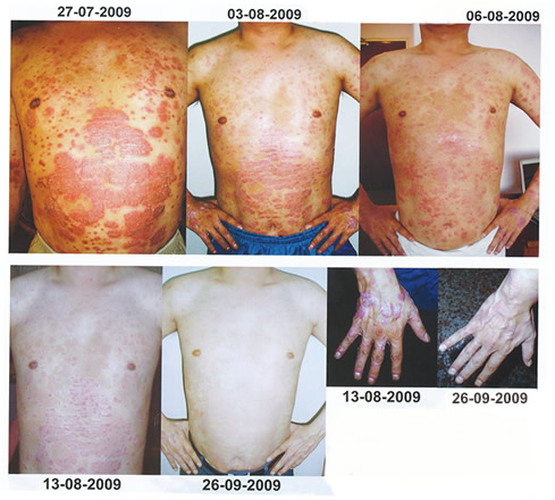 I'm Tony Lee in Penang, suffered from psoriasis. I got to know Super Lutein from my wife who had eye floaters. After just 5 days of consuming only 3 capsules daily, she recovered. So I decided to give it a try. On the first evening when I started consuming Super Lutein, my whole body began to feel warm, as though I was having fever. All the wound and inflamed areas began to rupture. I felt a lot of painand could not sleep that night. Surprisingly, the next morning, I noticed that all the swelling and inflamed areas have subsided. I was very happy and continued to take Super Lutein. The following day, the dead skin started to drop off by itself. This Psoriasis had been bothering me for over 10 years, and now I have unexpectedly recovered in just 2 months.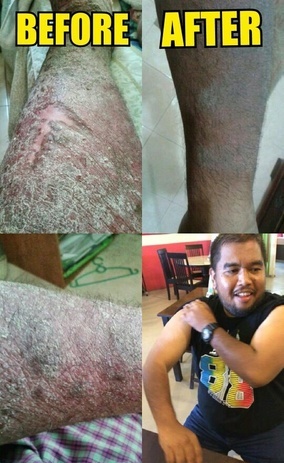 At the age of 24, Mr Ashy was diagnosed with high blood and gout.
Doctor prescribed medication for his high blood condition, but he developed skin problem after taking it.
His skin became so thick that it cracked and was very painful.
He used various ointments and underwent laser treatment, which helped a little bit, but the condition always returns.
A friend introduced him to IZUMIO, and he consumed two packets a day. The following are his progress:
After the first carton (30 packets) - head and face became better
After 2nd carton - back, chest and stomach improved.
After 3rd carton, hand and legs got better.
His Gout condition also improved. He does not feel any pain in his legs when he consumes red meat or bean products.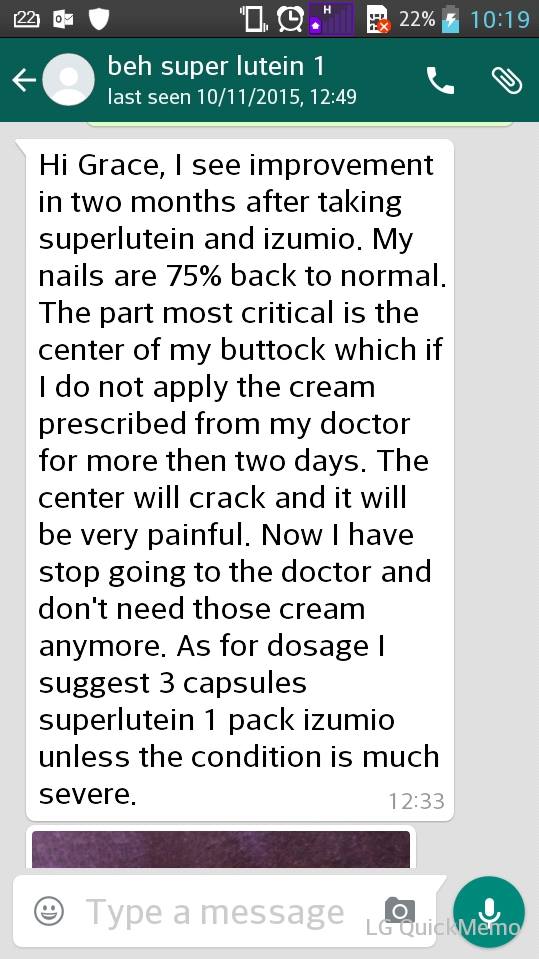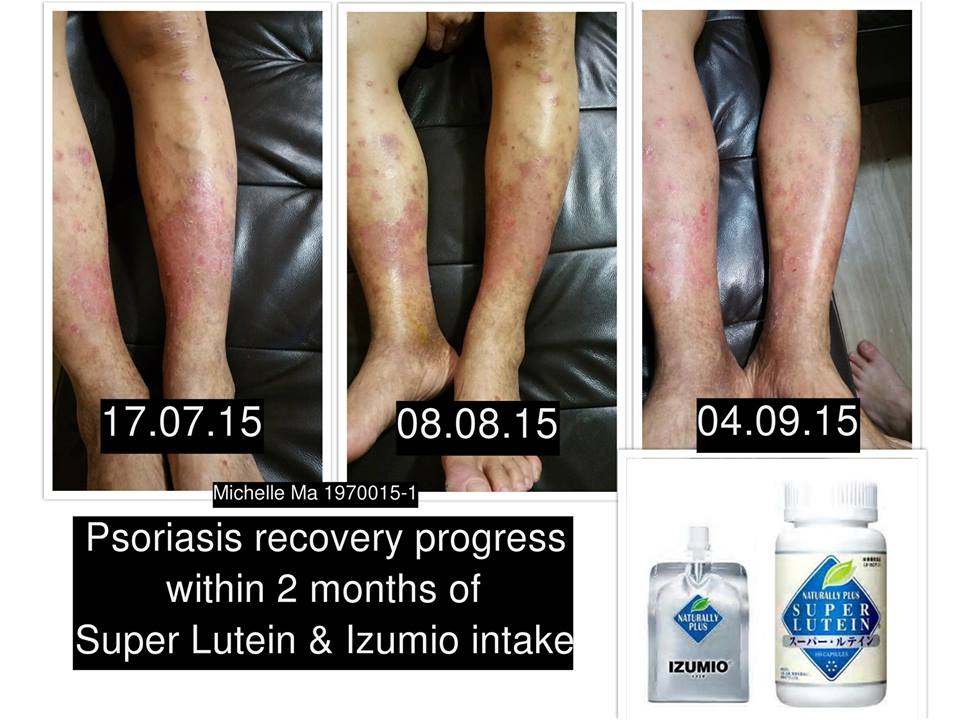 To purchase Super Lutein & Izumio, please call +65 96526095 or go to http://www.superluteinsingapore.com/contact-order
You'll need Skype Credit
Free via Skype
Categories: None
/